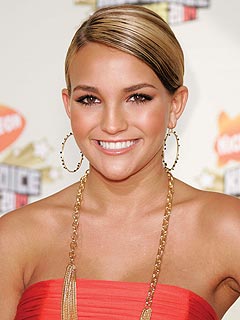 I'm sure by now you've all heard the wonderful news that yet another Baby Spears is going to enter the world, courtesy of 16 year-old Jamie Lynn.
"It was a shock for both of us, so unexpected," she said. "I was in complete and total shock and so was he."
Sorry, but she's Not. That. Innocent.
Okay, enough with the song references. But seriously, how sad is THIS? I'm not clear on the "shocked" part unless there was no sex involved, but the fact she took a home pregnancy test kinda shows she did Do the Deed and therefore knew what could happen.
A pregnant 16 year-old is never a good thing. JL is fortunate in that she has tons of money (aside from being the star of some show called Zoey 101, she happens to have a very famous sister. Perhaps you've heard of her?).
What she lacks is any sort of guidance. It is not a coincidence that Britney is wading through a Load of Crazy. I find it hard to believe that the senior Mommy Spears has nothing to do with the fact that her eldest daughter is so lost.
Shockingly, Lynne Spears' book on parenting - one Publishers' Weekly described as "Lynne Spears's personal story of raising high-profile children while coming from a low-profile Louisiana community" - has been put on hold. Indefinitely.
Yeah. A shame. It was exactly the how-to parenting tome I was looking for.
But maybe JL has learned from watching Britney go from a sweet, somewhat normal teenager to a head-shaving, chain-smoking, K-Fed marrying, baby-birthing, panty-less, non-carseat using, rehab-busting woman.
She wants to raise the baby at home, in Tennessee, not out in LA. Of course, "at home" means with her mother, but that's probably when her mom isn't out in LA taking care of Brit's kids.
Sixteen.
Remember 16? The most exciting thing that happened to me was I got my driver's license. Of course, I know some of my friends were doing the Spears, but not one of them was mature enough to raise a child. Luckily, none of them had to.
Having a baby bump has become the latest accessory of the stars. I just saw some website rank the "10 Sexiest Bumps." Halle Berry, Christina Aquilara, JLo, etc. I think it's great that being pregnant is no longer something to hide under a gingham frock with a peter pan collar.
JL is about to become hip. And hip-pier. Thing is, there's an acutal BABY growing under the bump. Those other stars are at least grownups. Chronologically, if nothing else.
This pregnancy, this child, will be scrutinized just like any celebrity's. But with this one comes enough baggage to fill LAX.
At 16.
JL is no ordinary 16 year-old, of course, even before this happened.
Now she's going to have to grow up overnight. Hopefully, there will be someone there to help her make the transition.